Buy a New Car Online and Have it Delivered
Vehicle Delivery is Now Available at LaLonde CDJR in Imlay City. Buy your next car online and have it shipped to your home or office! Home-delivery works for anyone who is financing or leasing a new Chrsyler, Dodge, Jeep, or RAM and anyone trading in a car!
The car buying process at the dealership can sometimes be time-consuming and in today's day and age, many are concerned with maintaining Social Distancing, which is why LaLonde CDJR is offering our customers the added value of home delivery within 20 miles at no extra charge.
You can complete every step of the buying process over the phone, via text, email, or online. Our friendly staff will drive your new Chrsyler, Dodge, Jeep, or RAM to your home or office and bring the sales documents for you to sign.
You can click here to receive an estimated value of your trade-in. For financing, simply click here to get pre-approved now!
The following steps will show you how to locate, price and buy the new car you want. This information could save you money and make the process faster and even delightful.
---
Step 1: Select Your New Car
Shop our new or used vehicles now or if you don't see exactly what you want, or are unsure what your payments will be, contact a product specialist instead. They will help locate the perfect vehicle for you!
---
Step 2: Price Your Trade-in
We offer a simple Blue Book Value Your Trade Tool to show you in just 2 steps what your trade-in may be worth toward the purchase of your new car. This tool will help you get an idea of your trade value based on the stated condition. In our experience, our in-person appraisals of your trade-in usually result in similar trade-in value.
---
Step 3: Get Pre-Approved
After you've selected the new or used car, truck or SUV and have an idea of what your trade-in may be worth, the next step in the car buying process is to get approved for a loan lease program. Our online finance application makes this easy!
---
Step 4: Complete Your Finance and Delivery Package
Prior to scheduling your home delivery, we will send you a secure link to upload any required documents required by the State of Michigan or the Lender.
---
Step 5: Sign the Paperwork
This step can take place at your home or office, wherever it is most convenient for you! One of our friendly staff will assist with all the necessary paperwork. One product you may want to consider adding that can have real value is our extended Total Care Auto Warranty, which provides peace of mind to many buyers and will save you money in the long run. Or, you may want to customize your new vehicle with accessories for only a few dollars more per month. Just ask your sales associate for more information.
---
Step 6: Vehicle Demonstration
You are probably eager to begin driving your new car. But during this important step, the salesperson will give you a full tour of your new car, including how to connect your smartphone to the car's Bluetooth system and how to use other important safety and technology features.
---
Step 7: Enjoy your new vehicle
FAQ
Free Delivery
LaLonde CDJR will deliver your new car within 20 miles of our store to your home or office at no charge. Destinations over 20 miles may incur a convenience charge. Any delivery charges incurred will be disclosed when the delivery is scheduled.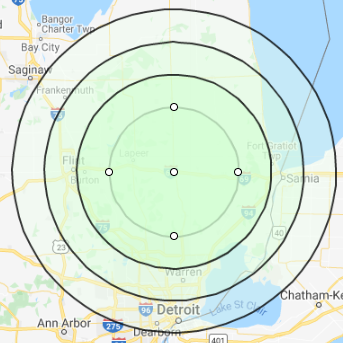 Delivery Hours
We are unable to deliver a vehicle to you during peak business hours. It takes more than one person at a dealership to a complete remote delivery. The salesperson, sales manager and finance manager all will be involved. It will also require an additional store employee to drive the salesperson back to the dealership. Home or Office Delivery is available from 10:00 AM to 4:00 PM Monday through Friday
Test Drives
At this time we are unable to schedule remote test drives. Please contact your salesperson if you would like to schedule a test drive prior to your home delivery.